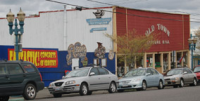 Established in 1984, Aladdin's has been acquiring and selling a distinctive assortment of antiques and collectibles. Aladdin's is a destination point of interest along I-5 between Seattle and Vancouver British Columbia.
Since we are a large Antique Mall with two entire stores: Penny Lane and Aladdin's Antiques and Records, there are multiple vendors contributing to the inventory. That means a large variety of merchandise that changes daily. There is always something for everyone, every age and every budget. You may find a Dukes of Hazard lunch box or an Eisenberg brooch. Possibly a 100 lb anvil or a lovely vintage fountain pen. Keep us in mind when you are looking for a gift for that person that has "everything" or when you are working on an interior or exterior design project. Artists have a great time here gathering inspiration and components for art pieces. Also, don't forget, we have gift certificates.
At Aladdin's you can find treasures from hand-picked vintage and estate jewelry and art to home decor and furniture. We feature pieces from the Arts and Crafts, Mission, and Mid-Century Modern periods. Art pottery, art glass, cast iron and tin toys, Star Wars and other movie collectibles, plus radio and television memorabilia.
Items frequently found in our store: Select and Estate Jewelry, Photography Equipment and Photos, Advertising, Vintage Magazines, Art Glass, Art Pottery, Household Accessories, Depression Glass, Kitchen Wares, Furniture, 20th Century Pop Culture, Guitars and Amps, Other Select Musical instruments, Vintage Radios, Vintage Tools, Vintage Toys, Star Trek, Star Wars, Hi-Fi and Stereo Equipment, Phonographs, Vinyl Records; 45's, 33's, 78's. Rare Beatles and Elvis. Edison Records, Cylinder Records, Cassettes, 8-Tracks, Reel to Reel tapes and more!
20 th Century Pop Culture
Advertising
Art Glass
Art Pottery
Beatles
Cameras
Clothing
Depression Glass
Elvis
Furniture
Guitars and Amps




Hi-Fi and Stereo Equipment
House Hold Accessories
Phonographs
Photography
Select Estate Jewelry
Star Trek
Star Wars
Vintage Magazines
Vintage Tools
Vintage Toys
Vinyl Records – 33's, 45's, 78's, 8-tracks, etc